About us – Imachupicchu
We are 'Imachupicchu', a website that offers the main services and tours on the trip to Cusco and Machu Picchu.
We have a team of professionals in the tourism sector to offer a well-organized service. We offer tours, tickets and various types of tourist services.
We are a tourism agency that seeks to become the best tourism company in the Cusco region. We have authorization code 20601151457.
We have large premises in the historic center of Cusco. We also offer several means of communication to contact us. Get to know Cusco with professionals!
Our history
2013 – Our beginnings
We created a company with the aim of helping tourists obtain the best information about the trip to Cusco and Machu Picchu.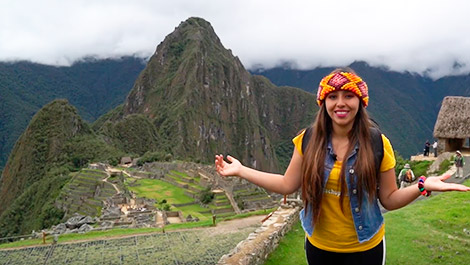 2014 – Our first website
'Boleto Machu Picchu' was born, a leading page in the sale of tickets to Machu Picchu online.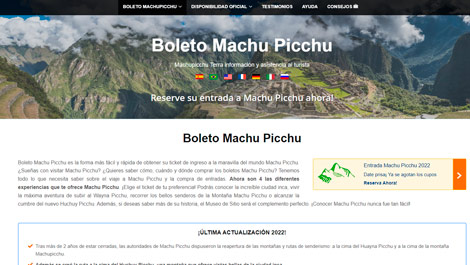 2015 – Our local in Cusco
We base our operations in our own office located in the Historic Center of the city of Cusco.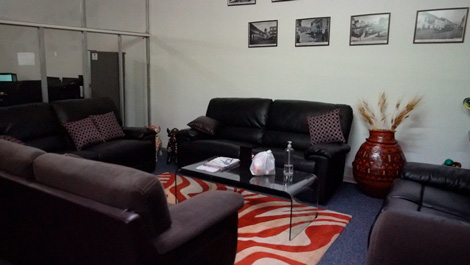 2016 – We create more services
We implemented new web pages where we include hiking trails to Machu Picchu, such as the famous Inca Trail.
2017 – We created 'imachupicchuticket'
Given the good reception of our services, we created new web pages such as 'imachupicchuticket' specialized in selling tickets to Machu Picchu.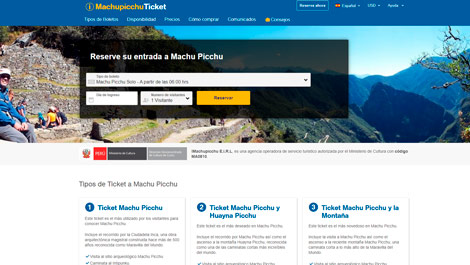 2018 – More tours of better quality
We implement tours to the best tourist attractions in Cusco such as: the Sacred Valley, the 7-color mountain, Machu Picchu and more.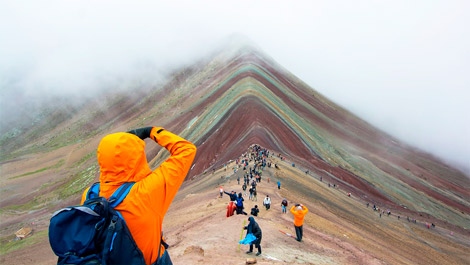 2019 – Our YouTube channel is born
We implemented a YouTube channel where, through educational videos, we show visitors complete information on the main tourist services and destinations in Cusco.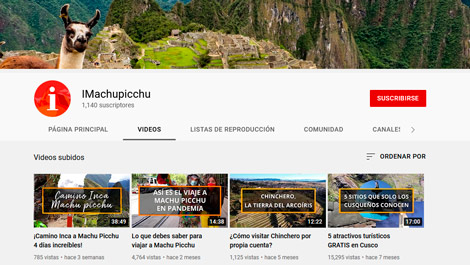 2020 – We got stronger in pandemic
As a result of the Covid 19 pandemic, we diversified our services and created 'Machupicchuterra.com', an educational and complete website for tourists who want to get to know Cusco.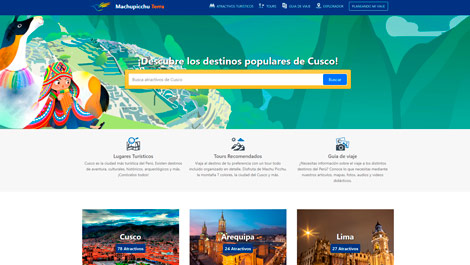 2021 – We continue working
We have been improving and maintaining the quality of our services through our different web platforms.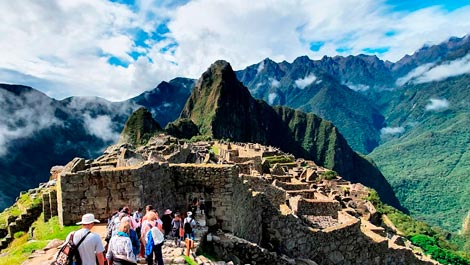 We are here
Our values
Innovation
Every day we adapt to technological innovations to make them available to our customers.
Communication
We have various tools to maintain excellent communication between the company and our clients and collaborators.
Honesty
We are a transparent company that offers is characterized by complying with the offers shown on our website.
Our Mission
Our mission is to offer visitors a quality service for the various tourist attractions of Cusco.
For this we offer a web page with an easy and secure interface where our clients can make the purchase of the different tourist services.
We also seek to provide tourists with the best information through our website. With our informative articles, visitors will be able to organize their trip to Cusco and Machu Picchu with greater confidence and security.
Vision
Become one of the companies that offers the best tourist services for Cusco and Machu Picchu.
Consolidate the 'Imachupicchu.com' web page as one of the most didactic and that provides the best information to tourists interested in visiting Cusco and Machu Picchu. For that we seek to constantly adapt to new technologies.
Consolidate our YouTube channel as one of the audiovisual media that offers the best information about the trip to Cusco and Machu Picchu.
What is our goal?
Our goal is to offer tourists a quality tourist service. In other words, we want visitors to be satisfied after their trip to the different tourist attractions of Cusco and Machu Picchu.
Why trust us?
These are the reasons to trust us:
We are a legal company authorized by the Ministry of Culture of Peru.
We offer tourist services with affordable rates for all types of travelers.
We have our own premises in the Historic Center of Cusco.
We have a work team with professionals in tourism, computer science, web programming, languages, technologies and more.
We have easy and secure payment methods: such as Visa, MasterCard, American Express, Diners Club and more.
We offer many forms of contact such as: email, phones, Skype and more.
How is the experience of traveling with us?
By choosing us you can have at your disposal a travel advisor who will provide you with all the necessary information for your reservation and the trip to Cusco.
Our tours are organized by professionals. They include all the necessary services: tickets, transportation, tour guide and more. Thus, the traveler will not have to queue.
The tours offer punctual departures. They also comply with all health protocols against Covid 19.
We offer permanent communication with the tourist before, during and after our services.
We offer our offices to tourists to answer any questions. Hours are Monday through Friday from 9 a.m. to 6 p.m. On Saturdays, from 9 in the morning to 1 in the afternoon.
Work Policies
Imachupicchu has a work policy based on offering tourists the best experience during their visit to Cusco and Machu Picchu. For this we offer our workers the best tools and training. We have several years of experience embodied that are reflected in the quality of service of our services and our workers.
Company Policies
These are our policies as a company:
Facilitate various means of communication between the tourist and the company.
Organize the best and complete information for tourists through our informative articles as well as our educational videos.
Keep our workers trained in order to provide a quality service based on the latest advances in technology.
Respect the rules as a company as well as the provisions issued by the authorities of Cusco and Machu Picchu such as the Ministry of Culture of Peru.
Commitment to society
During the execution of all our tourist services, we respect and collaborate with society, especially with the rural communities and Andean towns that are directly linked to the tourism sector in Cusco and Machu Picchu. Once a year we commit to make an economic collaboration to the most remote Andean towns of Cusco. We often bring toys, school supplies and food to the poorest families in our region.
Commitment to the environment
During the execution of all our services we respect and protect the environment that surrounds the different tourist attractions of Cusco and Machu Picchu. All our collaborators: tour guides, porters and others are trained on the importance of caring for the environment. This is especially reflected in the different hiking trails we do: the Inca Trail to Machu Picchu, the Salkantay Trek, the Lares Trek, the Inca Jungle and more.
Legitimate company
Imachupicchu is a legitimate company with RUC number 20601151457. We have authorization from the Peruvian Ministry of Culture and the Cuzco Cultural Directorate.
Work team
We have a work team of highly qualified professionals made up of:
Graduates in tourism and business administration.
Staff of professional tour guides.
Staff of computer engineers specialized in web programming.
Staff of web writers specialized in the tourism sector.
Personal cooks and porters assigned to the hiking trails in Cusco.
Support staff in cleaning, disinfection for each tourist service.
Recommended agency!
Imachupicchu is a recommended tourism agency with good ratings in various internet travel forums such as TripAdvisor. You also know the experience of getting to know Machu Picchu together with the best tourism team in Cusco.
Who we are – Questions and answers
1) Is Imachupicchu a legitimate agency?
Yes, the tourism agency has authorization from the Ministry of Culture of Peru with code 20601151457.
2) What is your phone?
You can contact 'Imachupicchu' at (51) 84 207064.
3) What are your business hours?
Business hours are GMT 5: Monday through Friday from 9 am to 6 pm and Saturday from 9 am to 1 pm.
4) Is your website secure?
Yes, we have protection systems to navigate our page. All personal data of our clients is protected.
5) How long has it been in the market?
Imachupicchu has been in the tourism market since 2016.
6) Where is it located?
The Imachupicchu offices are at: Calle Recoleta Angosta #604, Cusco – Peru.
7) Do you offer entrance tickets to Machu Picchu?
Yes, we offer all types of entrance tickets to Machu Picchu: 'Machupicchu Solo', 'Machupicchu with Huaynapicchu', 'Machupicchu with Mountain' and 'Machupicchu with Huchuypicchu'.
8) What are your payment methods?
Payment for any of our services can be made online through Visa, MasterCard, American Express, Diners Club or PayPal.